Whether 2021 is the year you want to get your finances in order or just want to keep the ball rolling from 2020, budget planners are a good place to start.
Budget planners help you manage your monthly finances, get a better picture of your spending habits, and keep track of your bills. It can help you get organized and hopefully guide you on your way to a better financial future.
Below are some of the best budget planners and stickers for Etsy so you can start in the right direction.
Budget planner
Flowered Budget Planner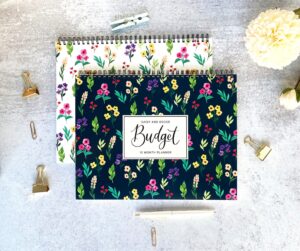 This planner is printed on beautiful acid-free paper and includes a sheet to help you create a monthly budget, several expense report sheets, and extra pages to keep track of your savings and debts.
You can find it here on Etsy.
Spendwell Budget Planner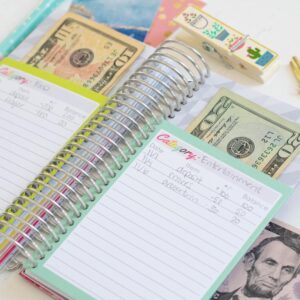 Not only will this budget planner help you manage your budget, but it will also give you a visual overview of what those numbers actually look like. The budget planner includes envelopes for cash so you can make sure you are only spending what you have each month.
You can find it here on Etsy.
Monthly budget planner (sticker for a notebook)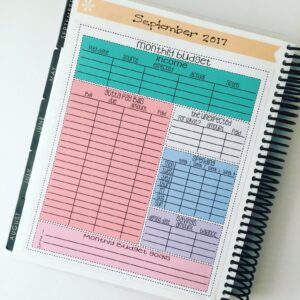 This monthly budget planner is a sticker that you can add to an up-to-date planner or just stick in a notebook. The sticker is a great way to create your monthly budget, including bills due, money saved, and tracking of your weekly expenses.
You can find it here on Etsy.
Printable and digital budget planners
Happy planner assignments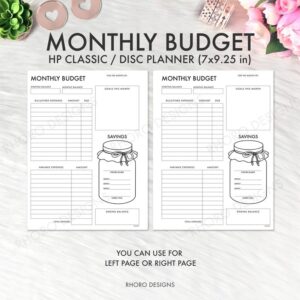 If you are continuing your hard work from 2020-2021 and just need a few new sheets for your budget planner, download these Happy Planner inserts. Instead of buying a whole new budget planner, print as many inserts as you want. You can find them here on Etsy.
Pink and Gold Budget Planner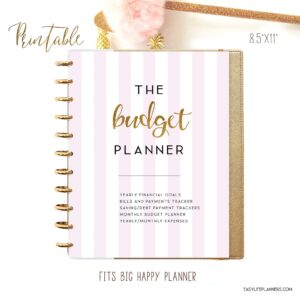 In addition to two different ways to track your savings, this planner includes a debt payment tracker, a daily expense tracker, a monthly budget planner, and an annual financial goal tracker. The Bill Payment Tracker has a year view so you can see if you have paid each of your monthly bills or not.
You can find the download here on Etsy.
Digital budget planner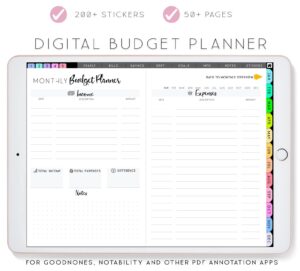 This digital budget planner has 50+ pages to help you track your expenses, plan your savings, and meet your monthly and annual financial goals. You can also keep track of your debt payments and anything else you might need.
You can find the download here on Etsy.
If you are looking for more digital budget planners, many of them are included in the digital planner download packages. I wrote an entire post looking at some of the best options for Etsy in 2021. You can find this post here.
Printable pages for financial planners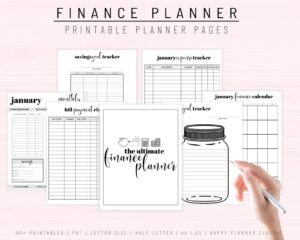 Sometimes easier is better and easier to understand. This printable set of pages is easy to complete and easy to follow. Set up your monthly budget, keep track of your expenses, and work on your savings goals. You can find the download here on Etsy.
Budget planner kit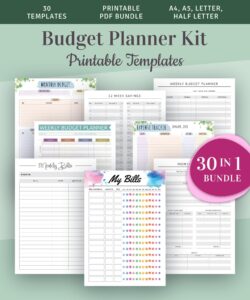 This budget planner has an invoice page where you can keep track of all of your monthly bills, an expense tracker, and monthly and weekly budget trackers. There is also a 52 Week Savings Page that you can use to make sure you set aside a little time each month for your emergency savings.
You can find the entire download here on Etsy.
Monthly budget planner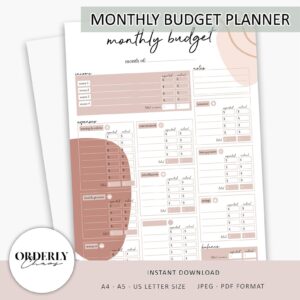 If you're just looking for how much to spend, how much to make, and where to cut back, then a monthly budget planner is for you. This downloadable page will help you keep track of where your finances are each month.
You can find it here on Etsy.
Budget Planner Stickers
Sometimes you just want to make budgeting a little funnier than it is. It can be incredibly satisfying to put a sticker on every time you hit a savings goal or pay a monthly bill on time. So why not celebrate?
Below are some great budget stickers to use to celebrate the small wins.
Girls Budget Planner Stickers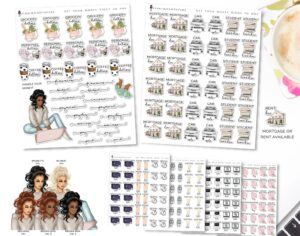 Not only does this set of stickers contain all of your basic monthly bills, but some fun ones too, including coffee dollars and payday!
You can find them here on Etsy.
Cash envelope sticker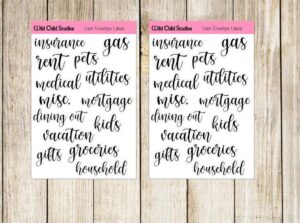 If you're a fan of the cash handling system that Dave Ramsey talks about all the time, then this is a perfect set of stickers for you. This set includes stickers for rentals, pets, groceries, eating out, and more.
You can find it here on Etsy.
If you want to learn more about the cash handling system, the details can be found here in a previous post.
Planner mini stickers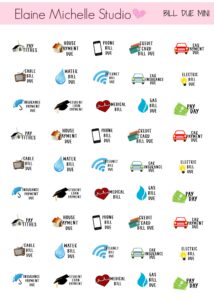 These stickers are a perfect fit with your budget planner or are a great addition to your daily planner. The sticker sheet contains student loan payments, medical bills, mortgages, and more.
You can buy the stickers here on Etsy.
Icon budget planner sticker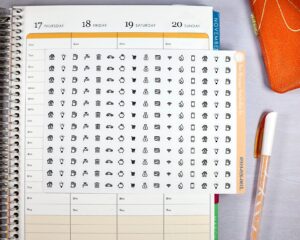 Add these little stickers to your calendar or budget to remind yourself when your bills are due. The stickers are pretty straightforward to interpret, a trash can for trash, a car to pay for the car, etc. It's a simple yet effective way to keep yourself and your finances updated every month.
You can find the stickers here on Etsy.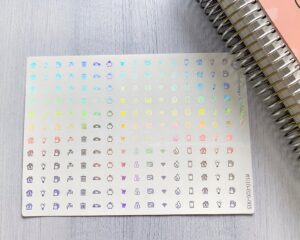 If you're looking for something a bit more colorful and eye-catching, try the same holo-shaped stickers. They are shiny and eye-catching.
You can find them here on Etsy.
Money Budget Planner Stickers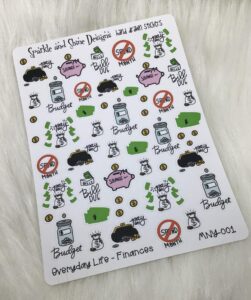 Nothing like cash that inspires you to save. This collection of stickers isn't particularly specific but is fun and a great way to learn about budgeting and saving.
You can find it here on Etsy.
Printable stickers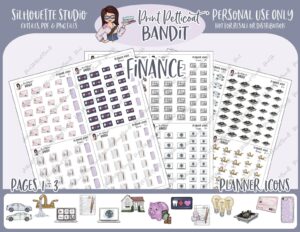 You don't have to wait for these budget stickers to get in the mail before getting started. This downloadable set is ready to be printed out the moment you purchase it. There are sticker icons in the pack so you can remember to pay for your gas, electricity, mortgage and much more.
You can find them here on Etsy.
Digital Budget Planner Stickers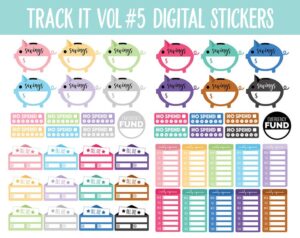 If you have a digital budget planner or want to plan any of the above, you may want some stickers to go with it. You can use these downloadable stickers to highlight when bills are due or highlight the payday. You can also use them in your digital planner to keep track of everything that is going on in your life.
You can find it here on Etsy.
Related posts:
Honest Passive Income Planner Girl by Michelle Rohr Course Review
9 wedding budget planners that will reduce stress

Latest posts by Erike Towne
(See everything)