of hope
For the first time in a long time, I've put my budget and tracking in a table. At the end of each week, I write down all of the money spent and received. While I've been tracking my expenses fairly carefully over the past few years, I haven't combined them with my income.
Here is my late January report for personal expenses.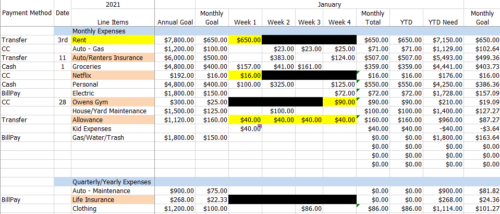 Each row has the annual budgeted amount divided by the applicable months (most are 12 months, but some are more compact). The following month subtracts the amount spent so far and then adjusts the YTD need and monthly goal accordingly.
I quickly realized that there were expenses that I hadn't budgeted for but that I want to track. This is how you see the new Kid Expenses item. I'm not ready to add this as a running budgeted amount, but I want to keep track of these specific expenses. It may need to be a line item in the future.
Notes on my January issues
This month's unexpected expense was an online driving class that Turner needs to get his driver's license this summer.
You'll also find that I've blown all my modified January without spending so we can ski out of the water. I ended up buying groceries a couple of times and while most of the budget went on skiing for personal expenses, the last week of January I was diving into the money of February. But overall, I'm pretty proud of staying on the right track.
I finally broke down and bought some new clothes … 2 pairs of leggings, 3 work tops for $ 86. This was triggered by two things – I have been wearing the same leggings for YEARS, I would guess most of them are 5+ years old and my two favorite pairs have holes in them. Normally I would just keep wearing them, but they are no longer appropriate, if you know what I mean. Second, I'm on video calls for hours every day with my new job, many times for partners and C-level executives. I had to improve my game enough to be able to video calls in suitable work shirts. Although they didn't tell me anything, I'm sure my t-shirt and sweatshirt staple would be a problem at some point. Now I have a suitable top for every day of the week.
I'll be posting my full budget later this month but thought this was a good time to show how the money was spent in January.
In the meantime, here are budgeting apps that you can use.
| Platforms | Fees and minimum | Best for |
| --- | --- | --- |
| Personal capital | Free | Monitoring wealth and spending |
| simplification | Free | Manage money anywhere |
| YNAB | $ 84 per year or $ 11.99 per month (after a 34-day free trial), free for students for 12 months. | Personal budget tracking |