Cake is a cloud-based POS system for small and large restaurants, bars and cafes. For restaurant owners looking for a customizable system, it's a solid choice. The company runs its own splash-proof terminals and sells software packages that provide real-time reports, menu management, floor management and a range of integrations for Restaurant accounting and operations. Guest management and online ordering are considered add-ons.
Since this is a two-year contract and an activation fee, restaurateurs should take their time to decide whether Cake POS is right for them.
| | |
| --- | --- |
| | $ 69 per month plus $ 49 per month for each additional terminal. |
| | $ 1,499 for the POS station without a customer touch display; $ 1,699 for the POS station with a customer touch display; Stations include a 15 inch POS terminal, thermal printer, cash drawer, and payment cube. |
| | 3.29% plus 15 cents per American Express transaction; 2.5% plus 15 cents for any other credit card transaction. |
| | |
| | 24/7 phone, SMS, email and chat support. |
| | Cake POS is easy to navigate with its intuitive user interface and Quick Menu Edit function. Integrations can be a learning curve. |
Core software plan
Floor management: Full-service restaurants with multiple seating areas can manage them all in one place with individual floor plans.

Menu and order management: Managers can quickly add new items and modifiers to the menu and make price adjustments if necessary. There is also an area where staff can log notes or special instructions that are sent to the kitchen.

Employee management: The Cake POS software comes with a time card management system so that employees can clock in and clock out via the system. Not only does it help keep track of restaurants, overtime, and breaks, but it also shares tips for employees.

Reporting: Reports deal with sales and labor costs and can be filtered by date, employee, product category, payment type, order type or revenue center. Restaurants can compare these sales and labor costs side by side and also sort them by order averages and modifier sales.

Loyalty program: Customers register with Cake's digital punch card loyalty program with their phone number or the app and receive rewards and discounts.

Basic inventory management: Items can be marked as 86'd or out of stock, and managers can update inventory levels so front desk staff know when a particular menu item is limited. Cake can be integrated with Orca for advanced inventory management, which costs $ 109 to $ 129 per month.

Other POS functions: The front desk staff can split checks by seat and also split the cost of common items such as starters among several guests. Cake also offers training and certification courses for employees.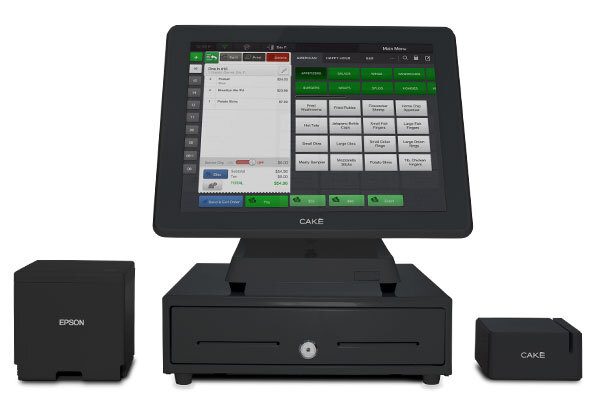 Add-ons
Online order: Cake offers an in-house, bespoke online ordering option that is fully integrated with the POS system and gives customers the option of contactless roadside pick-up. The platform is personalized for each restaurant to match its branding and menu. By integrating the company with ItsaCheckmate, restaurants can also connect to third-party delivery services.

Guest management: Customers can virtually «queue» and receive SMS notifications when their tables are ready. In addition to calling the restaurant to make a reservation, diners can visit Google Reservations, the restaurant's website, cake.net, or an app called The List. When repeat customers make a reservation, the system notifies the restaurant host so they can offer them a more personalized experience.

Mobile POS software: Cake's OrderPad app closes iPads mobile POS stations The front-of-house staff can take orders on the curb, at the table or while the guests are in line.
POS station: $ 1,499 plus a one-time activation fee of $ 999 per location for the 15 «touchscreen POS terminal, thermal printer, cash drawer, and payment cube. Restaurants can opt for a station with a customer touch display for $ 1,699. The software costs $ 69 per month plus $ 49 per month for each additional terminal on a two-year contract.

OrderPad mobile POS: $ 49 per month for the OrderPad app and support, plus an activation fee of $ 299. Restaurants can purchase an iMag Pro II Payment Reader from Cake for $ 99. iPads are sold separately.

Guest management add-on: $ 79 per month for unlimited use plus $ 199 when signed.

Addition to online ordering: $ 49 per month plus 5% of total sales (this rate includes the merchant's processing fee).

Payment processing: 3.29% plus 15 cents per American Express transaction; 2.5% plus 15 cents for any other credit card transaction.
user friendliness
Reviews of Cake often mention its simplicity and ease of use. This is a great benefit, especially for restaurants that are hiring a lot of new employees who need to learn the system. One really standout feature is the menu editing feature that lets you edit menu items and prices in a snap with just a few clicks.
24/7 customer support
Since restaurants, cafes and bars often work outside of normal working hours, 24/7 customer service is a big plus if, for example, credit cards cannot be processed or employees cannot clock in. Reviewers say Cake's support, available via phone, SMS, email, and chat, is both responsive and helpful.
Durable hardware
Cake's terminal was specially developed for the hospitality industry and is fully encased to withstand splashes, dust and crumbs. The panels are also flush with their frame so that nothing can get stuck in the gaps. In terms of hardware durability, the company's system is similar to Toast's, which is also leak-proof and dust-proof.
Contract term
Cake's two-year deal puts pressure on restaurants to see if the product is right for them now and in the future. Because of this, it is a better choice for restaurants that have been open long enough to fully understand their POS needs and how they are generally evolving.
Activation fees
Cake charges activation fees for its POS terminal and mobile POS solution as well as a one-time registration fee for its guest management add-on. An extra $ 999 here and there might not make much of a difference for established restaurants, especially if they know Cake will be the right choice for them in the long run. However, it could make newer restaurants that are tight on cash think twice.
Place for restaurants
Software prices: Free and on.

Hardware prices: $ 799 for a square register.

Payment processing: 2.6% plus 10 cents per personal transaction; 2.9% plus 30 cents per online payment.

Support: Monday through Friday 6:00 am to 6:00 pm Pacific Time for the free plan; 24/7 for paid plans.
Square Restaurant POS

Place for restaurants is a great option for newer restaurants wanting to get a feel for what to expect from a POS system. It has no long-term contracts, no installation fees, and offers a free plan for businesses that just need the basics. Like Cake, it integrates with a third-party solution for advanced inventory management instead of offering it in-house. While the loyalty program is an add-on starting at $ 45 per month, restaurants can create a free online order page for pickup, delivery, and contactless personal dining. If restaurants want a custom domain and font for their online order page, they can subscribe to Square Online's Professional plan for $ 12 per month.
Store
Software prices: $ 59 per month and more plus $ 40 to $ 60 per additional terminal.

Hardware prices: $ 1,350 for a POS terminal with monitor and card reader.

Payment processing: Offer-based.

Support: 24/7 telephone and email support.
One of StoreThe greatest strengths of s are the internal inventory management and prescription costing, which are included in the Pro and Pro Plus plans. Rather than integrating with a third-party service, the software allows restaurants to buy ingredients with one click and better control food waste. The system also sends a daily summary that includes data on menu performance, labor costs and sales from the night before. Upserve Marketing comes with all plans, and business owners can keep track of what people are saying about their restaurant with the Reputation Management feature also included with all plans.