This is a continuation of my ongoing list of house projects that I will prioritize in the final quarter of the year. The changes and updates since the last post are in BOLD. There are definitely some projects that will be a little slower due to the cost and challenge of sourcing certain supplies.
Here is the first update to the project list that I originally published:
New blinds in the front windows – DONE
Paint all the moldings – DID – In addition to the moldings around the living room windows, I painted all the moldings in the main living rooms and repaired the walls. No money spent as we have paint scraps and brushes on hand, but plenty of time!
Cut out the living room door that we expanded – Work DIY Paid $ 300 – I outsourced this and some work in the Princess Room, this sum spans multiple projects (see below).
Mend and paint princess bedroom – included in # 3
Hang blinds and curtain rods in the princess room – included with # 3
Install kitchen splashback – home improvement – planned in a few weeks
Center and install the ceiling fan in the kitchen – pay for help
Replacing the dining room light – DIY work?
Install kitchen light – DONE
Paint and reinstall existing switch covers – DID
Upcycling of existing 5 interior doors – I'm still doing research, will be DIY, but don't have a solid plan yet or know if I need to buy supplies

Create some focal walls – I'm still doing research, will be DIY, but don't have a solid plan yet or know if I need to buy supplies
Clean, rearrange and decorate the princess's room – DONE (see # 3, 4 and 5)
Set up deck – ON HOLD – After doing some research, I decided to present this. I've retired a lounge chair and table (both came with us from VA) and will only use existing plastic tables when company comes to eat.
Upcycle some old doors that I have had for ages as decoration / cast iron storage hangers – on my list to complete this week
Build a barn door for an indoor swimming pool – work DIY, Expect shipments to be anywhere between $ 150 and $ 200
Hang up new curtains in the living room – Work DIY EXIT FROM THE CONTRACT – I'm having trouble getting the brackets into the wall so I asked my handyman to come over and attach the 3 brackets for me
Complete upgrades to indoor pool & hang bar door – ON HOLD – This will be done in phases for cost reasons and because we will only "need" another bathroom next summer, when I assume that we will have a full house again. Still make design decisions. This will not be completed this quarter.
Build me some kind of closet – work DIY? (Do you have a wage offer for this, but you can try it yourself) – ON HOLD – I think we'll try to build this ourselves. The materials will cost around $ 400, maybe a little less.
Total spend in the first two weeks of September = $ 100.
Additional expenses (since last update) = $ 50 (mentioned in last update) + $ 300 for labor
The indoor swimming pool
This is the current status of our indoor pool …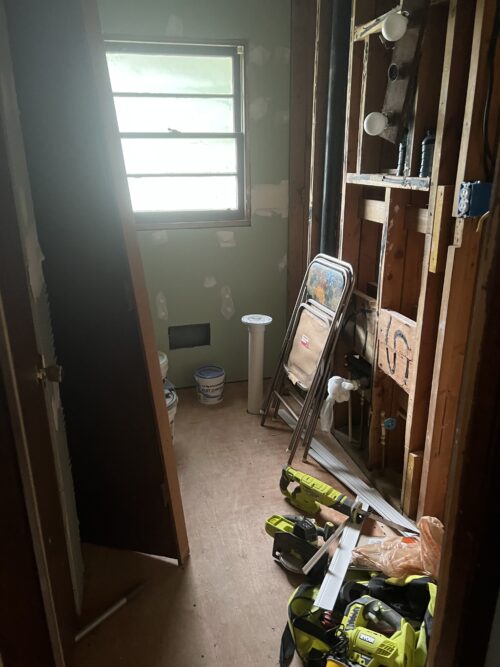 We had to replace the joists under the floor and move some walls. And updated the electrics. But then we stopped and have stayed that way for a few months now. Since we only have Gymnast and I here, we really didn't miss it. (Even with the girls here, it didn't cause distress.)
I've changed my mind about design so many times. And when I then decide on something, e.g. tile, I find out that it has been reordered for an indefinite period of time. In all honesty, it has kept falling on my list of priorities. Also, since I priced things out, it fell even further …
So here I am …
You have to make a decision and buy a bathtub or shower tray,
You have to make a decision and buy tiles for the shower walls,
You need to buy a vanity unit / sink (decided and it costs $ 800),
You need to buy a toilet (decided and it costs $ 100),
You need to buy a sink faucet (decided and it costs $ 140).
I think everything else is already bought and here. The work to complete it will cost $ 1,800.
I think I will make and buy the tub / shower tray decision and then have my contractor install the floor and toilet (they have to adjust the tub / shower tray to complete the floor). And then hold onto everything else until April / May. I just want to 1) get it right, 2) make it cost effective, and 3) make it so I'll love it 20 years from now.
This project is just way out of the money I wanted to spend this fall. But I want to make progress. So I think my goal by the end of the year will be to have floors installed, toilets installed and usable, and doors built and installed.
The Cost of DIY Projects – Part II post first appeared on Blogging Away Debt.