We tested eco cleaning and washing up products that are sold by SaveMoneyCutCarbon at great prices.
This page contains affiliate links. We may receive a commission on purchases made through these links. [Learn more]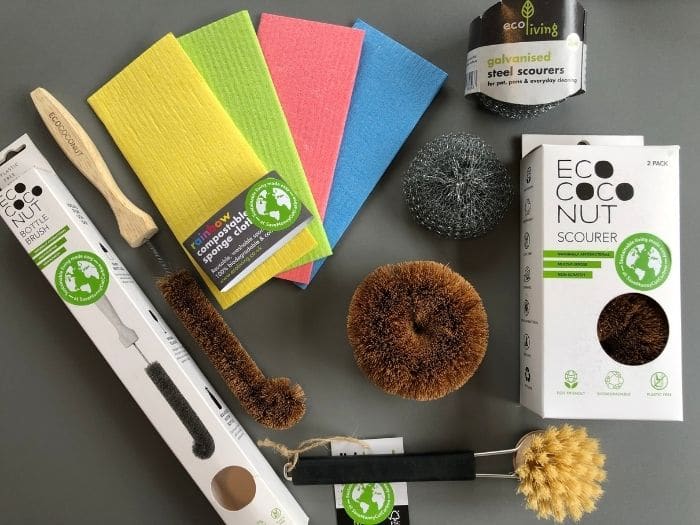 SaveMoneyCutCarbon sent us the products for review
While spring hasn't been a huge effort this year, proper spring cleaning isn't necessary.
We also want to do a proper thorough cleaning with our recent move.
Eco cleaning
I'm not going to lie – cleaning is not my favorite hobby! But I know it has to be done.
To save money, we usually don't buy branded items and stick to the supermarket's own or something from the pound store.
Unfortunately, this can mean that we have bottle after plastic bottle in the closet.
So I was interested in seeing how we can sustainably exchange our cleaning and washing up.
All of these products are available from SaveMoneyCutCarbon.
Not only do you protect the environment, you also don't have to spend so much. As a SaveMoneyCutCarbon Club member, you save a lot on products.
Here's what we tested this month.
Ocean Saver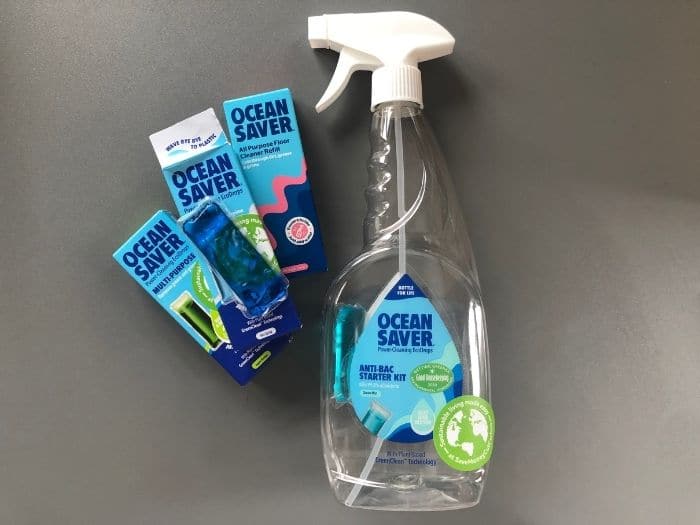 Whether it's glass cleaner, anti-bac or grease and dirt remover, all of the cleaning bottles we buy are essentially dilute cleaners and the rest is full of water.
Why buy a bottle like this when you can dilute it yourself from the kitchen tap?
You can then buy a small refill and use a plastic bottle over and over again.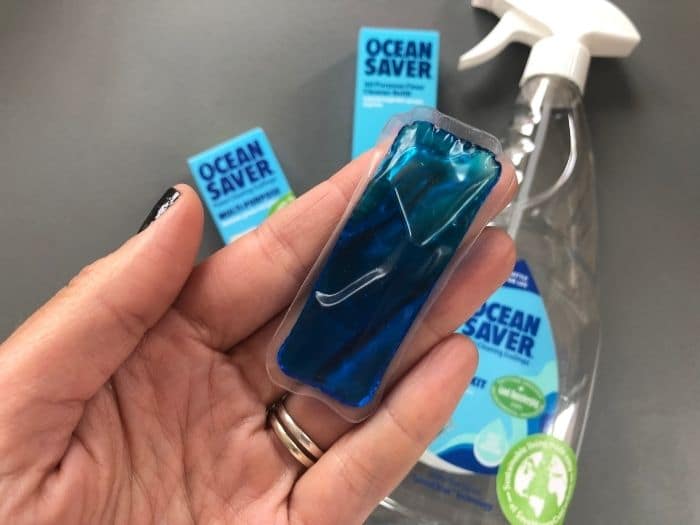 To use it, put the refill in a bottle, fill the bottle with water, and shake it well.
I was really surprised how good the product smells and most importantly, it really works.
From a storage point of view, we don't have to worry about additional cleaning bottles in the cupboard, as the refill capsules are small and can easily be stored in a drawer until use.
Do the dishes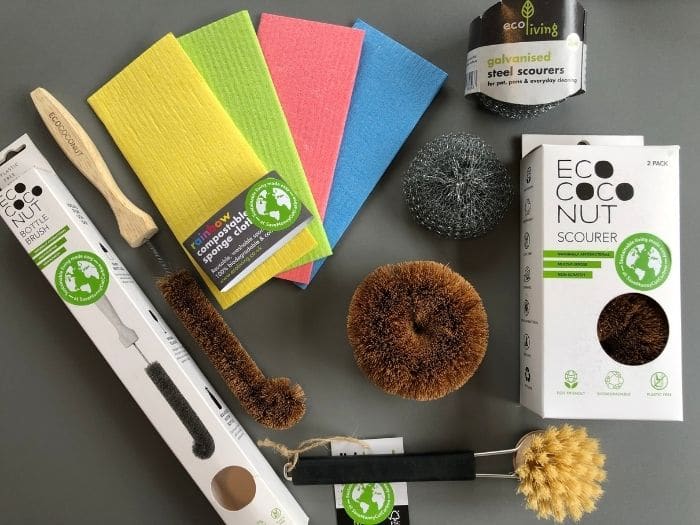 We were given an assortment of products to help us wash up.
The articles are reusable or manufactured sustainably.
Sponge cloths
Although they appear hard and stiff, these cloths are perfect for washing dishes or wiping the kitchen side with a little water.
We wash our tea towels and use them again for as long as possible, but when they are no longer good they go to the landfill. On the one hand, I think it's good that we try to reuse them, but cannot avoid them being thrown in the trash.
These sponge clothes are different.
Not only are they dishwasher and washing machine safe, they are also made of natural materials.
So use them, wash them, and keep them going. At the end of their cleaning life, however, the ecoLiving wipes are compostable at home.
Steel sponges
You get three galvanized steel scouring pads in one pack that you can use for pots and pans and for daily cleaning. However, you cannot use these scouring pads on non-stick surfaces (see the coconut pads below instead).
The scouring sponges are difficult to remove from dirt and are very durable. They don't rust either.
When you are done with the scrubber, you can recycle it as it is made of galvanized steel.
Eco coconut scrub
Instead of using a plastic or metal scrubber, the eco-coconut scrubber is made from sustainably sourced coconut shell.
They are a far more environmentally friendly alternative to other products on the market, and you can get them at a great price when you are a member of the SaveMoneyCut Carbon Home Club.
The pan cleaners are safe for non-stick pots and pans and do not scratch. They're also naturally antibacterial.
You get two in a pack and I'm sure they will last us for years!
Washing brush
Made from natural plant bristles and FSC wood, the head can be removed and replaced when this dish brush is worn out.
The brush is scratch-resistant and ideal for cleaning pots, pans, trays, dishes and glasses.
Eco coconut bottle brush
The shape of this bottle brush is great and very well thought out.
The bottle brush is not only naturally antibacterial, biodegradable and sustainable, but is also ideal for all types of longer items that require thorough cleaning.
You may need to clean baby bottles or a tall wine glass; The bottle brush can easily reach these hard spots.
Ecoegg bamboo towels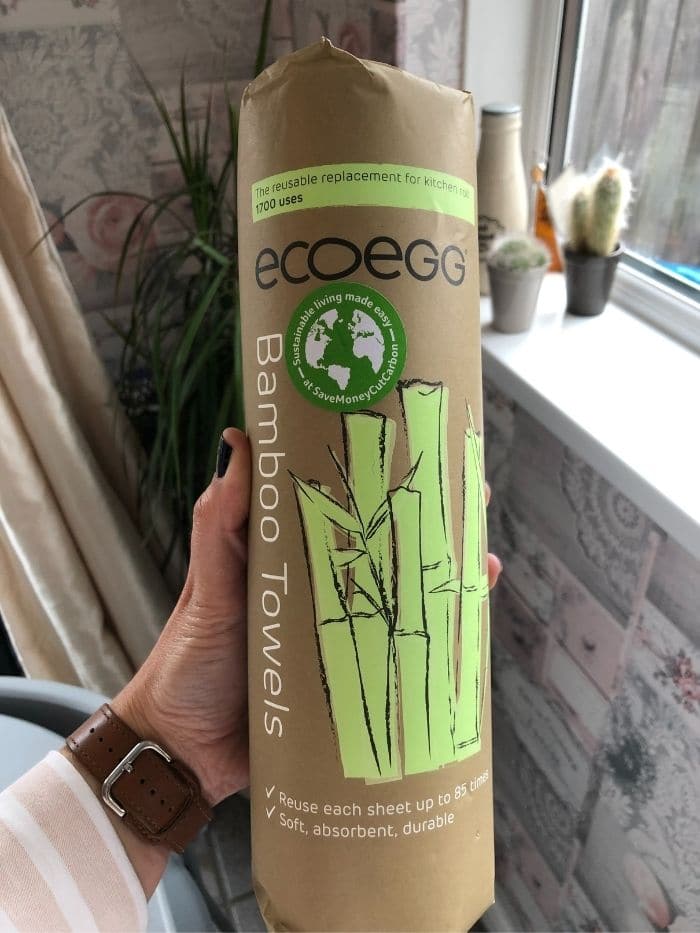 I love our new bamboo towels.
We usually always have disposable kitchen towels in the closet and are great for spilling something quickly.
However, they are unusable when wet and (even if I wanted to be ultra-economical) not dried and reused.
These ecoegg bamboo towels can change anything and be used over and over, saving you £ 67 a year.
Each roll has 20 sheets. This may not sound like a lot, but you can use each one 85 times.
The sheets are super soft, much bigger than disposable towels. Wash them in your regular white laundry load at 40 ° C and you're good to go.
We participate in reviews every month to test the products that SaveMoneyCutCarbon sells to see how they compare to other not-so-green alternatives. Follow what we've done so far and look back to find out what's next:
March – LED lamps
April – stow bags
May – this month eco-cleaning and washing up
June – organic eggs
July – eco bathroom
August – eco BBQ and picnic
Latest posts by Naomi Willis
(See everything)