The bustling port of Vancouver, British Columbia is a popular Canadian destination for outdoor junkies all year round. Take a stroll through 400 acres of Stanley Park, see the Sails of Light exhibit at Canada Place, or hit the slopes in one of the ski resorts outside of town. If you are on a budget, here is your guide to points and miles to visit Vancouver at a low cost.
Arrival to Vancouver
Nearest airports
When it comes to flights, Vancouver International Airport (YVR) is your gateway to British Columbia. To get to the city by public transportation, take a train on the Canada Line and be downtown in less than 30 minutes. The trains can be reached from a platform between the national and international terminals of the airport.
Major airlines flying to Vancouver
Vancouver International Airport is one of Air Canada's three main hubs – the others are Toronto Pearson International Airport and Montreal-Trudeau International Airport.
In addition, more than 50 domestic and international airlines fly to Vancouver.
The South Terminal Building, also known as Airport South, is a hub for regional and coastal aviation services such as charter planes, seaplanes and helicopters.
Airport South serves the following airlines and seaplane companies:
Pacific Coastal Airlines Ltd.
Fly to Vancouver with points and miles
Since Vancouver is an Air Canada hub and there is a chance it will fly non-stop to your departure location, that's where we start.
Air Canada Aeroplan
The Air Canada program divides the world into four zones and calculates their award flights based on the distance between two cities and demand. Aeroplan also has different redemption rates for its own flights and partner flights. So let's just say the price you find for your specific city pair on your particular date may vary.
An award flight within North America ranges from 6,000 Aeroplan points for an economy ticket less than 501 miles to 25,000 Aeroplan points for a flight longer than 2,751 miles. The final redemption rate also depends on how much a ticket costs in cash.
How to collect Aeroplan points: Earning Air Canada Miles is easy when you earn:
American Express Membership Rewards.

Capital One Venture Miles.
Simply transfer one of these currencies in a 1: 1 ratio to Aeroplan. Marriott Bonvoy Points are also converted into Aeroplan Points, but at a less lucrative 3: 1 ratio, with a 5,000 mile bonus for every 60,000 points converted.
Aeroplan is also a member of Star AllianceSo if you've earned points in programs like United MileagePlus, it's easy to book partner awards.
Hotels on points in Vancouver
Numerous hotel chains have settled in downtown Vancouver. Let's take a quick look at what the big players – Hilton, Hyatt, and Marriott – have to offer travelers looking to redeem points for a stay.
Vancouver Hilton Hotels
Hilton Vancouver Downtown
Few city center accommodations are available to Hilton Honors members, including the Hilton Vancouver Downtown.
The Hilton Vancouver Downtown is located on the famous Robson Street and is right in the middle: restaurants, bars and high-end shopping boutiques. Also, this Hilton hotel near BC Place is a great choice for sports enthusiasts. The home of the Vancouver Whitecaps and BC Lions is just a five minute walk away.
Booking costs in points: Hilton no longer uses an award table and calculates award nights based on demand. Standard room rewards at the Hilton Vancouver Downtown range from 37,000 to 60,000 Hilton Honors points per night, depending on the date of travel.
Vancouver Hyatt Hotels
Hyatt Regency Vancouver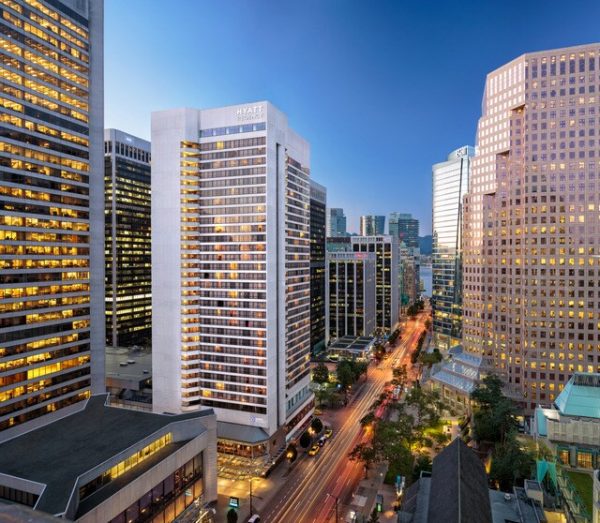 Hyatt loyalists don't have many options for an award stay in Vancouver. In fact, there is only one Hyatt hotel available.
Located in the heart of the city center, Hyatt Regency Vancouver is just around the corner from the Bill Reid Gallery of Northwest Coast Art and the Vancouver Art Gallery. The hotel is also close to Robson Street which is a must see for those who enjoy shopping and people watching.
Booking costs in points: Hyatt Regency Vancouver is a Category 3 hotel and will bring you back 9,000-15,000 World of Hyatt points per night for a standard room. Prices vary according to seasonality – fewer points are required during off-peak hours than during peak hours.
Vancouver Marriott Hotels
Sheraton Vancouver Wall Center
With six downtown hotels, Marriott Bonvoy has the most downtown Vancouver lodging options by points.
Sheraton Vancouver Wall Center is the only Category 5 Marriott hotel in the area. It's conveniently located downtown near Robson Square and is also a short walk from BC Place and Canada Place, an iconic waterfront landmark and venue.
Booking costs in points: As a Category 5 property, the Sheraton Vancouver Wall Center will refund 30,000 to 40,000 Marriott Bonvoy Points per night, depending on whether you are booking ancillary, standard, or peak dates. It's also a great place to use your free night vouchers that come with a range of Marriott co-branded credit cards.
Use points and miles to book a cheap trip to Vancouver
If Vancouver is on your list, you can use points and miles to get there. Using credit card rewards to plan a trip to British Columbia leaves you with more cash for other expenses such as shopping, entertainment, sporting events, and skiing.
How to Maximize Your Rewards
You want a travel credit card that prioritizes what is important to you. Here are our tips for that The best travel credit cards 2021including the best for: