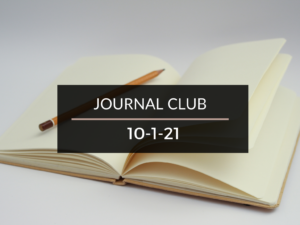 This is Journal Club 10/21. I stop every week JOURNAL CLUB. After filtering the articles on the web, I present some that have had an impact on my life this week. Be safe and stay healthy!
---
What comes to mind when you say you quit your company job to travel the world for a year? How did you do it, or maybe how long did you plan it, right? Well the author of

Learn Hustle Grow

didn't have this on their agenda until a year ago but they managed to get their finances in order to make it happen. Curious to find out more? Check out this article –

How do we do it?
We are all guilty of putting our lives on autopilot at some point. It could be forgetting the smallest things in order to make more serious life decisions. The author of

The Fioneers

shares a similar experience and how this story led to a greater insight in the article –

Get your life off the autopilot

.
Speaking of autopilot, sometimes our actions don't reflect the best of intentions. A silly mistake or oversight can turn into a potentially costly mistake. The author of

Financially vigilant

tells a story in which he almost left his heir from his inheritance. Would you like to read how that happened? You can find the whole story here –

How I accidentally wrote my son from his inheritance

.
Financial freedom or early retirement may sound tempting to those who are still working towards that goal. And while most people highlight the obvious benefits of early retirement, the author of is

At 40. to retire

talks about a major disadvantage of early retirement. If you are wondering what could it be? The answer to which you will find in the article –

The biggest problem with early retirement

.
That's all for this week! I hope this week's Journal Club has been helpful.
Are you reading anything interesting this week? Feel free to share it in the comments below!
Thanks for reading and sharing!
Peter