This is the door that I made. Okay, my dad and I did it in May when he was here. I knew I wanted a barn door for my bathroom, but I also knew I couldn't afford a barn door. So while he was here to watch the girls graduate and then take my mom home, we built one. I'm really proud of how it turned out!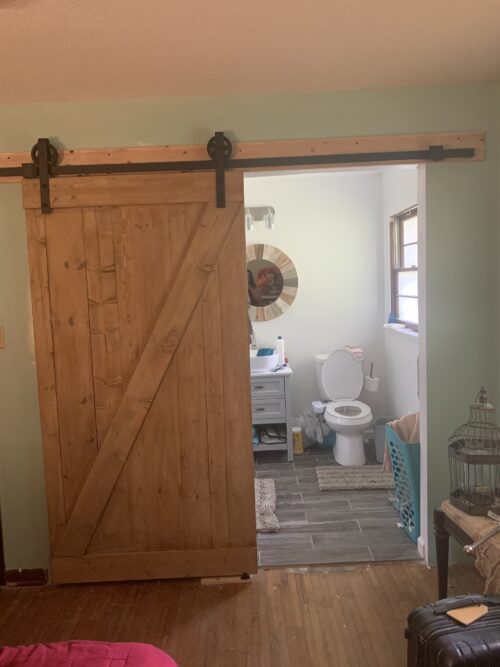 It is 43 ″ wide and 80 ″ high. It's made of $ 93 wood from Home Depot, stain and paint I had on hand, and a $ 87 hardware kit from Amazon. The total for my custom door was $ 180.
After all the research I've done and the feedback from people who have seen it … it would cost between $ 600 and $ 1,000. Score for DIY !!
Do It Yourself this month
Now I know that a new door was a need and not a need. But that makes my own home very special … having a door that my dad helped me out.
Our challenge this month is to find a need or even a desire and build it yourself. Then come back to this post and tell me what you did and how much you saved by building it yourself.
I have several projects that I want to do around my new house to make this easy for me. But remember that, besides the experience of doing and learning, the goal is to save money so we can apply it to debt.
I am curious what you will think of. And share what I do. (I'm especially excited that Gymnast is back from Texas so I can get his help with my DIY projects. He hasn't been here since I officially closed the house. I know the psychological gain is mine and not but I'm still very proud to have a forever home for my kids for the first time.)
The Post July Challenge – DIY first appeared on Blogging Away Debt.