Imagine flying to Europe in a spacious, ergonomic seat in Lufthansa First Class, enjoying the unique caviar service and first-class spirits in front of your gourmet menu and then watching a flight attendant completely convert your seat into a two meter long Flat bed transformed into you sleep peacefully under a temperature regulating duvet for the rest of your flight.
Now imagine paying $ 16,000 for it.
There's a reason most of us don't fly first class and it's not because we prefer legroom, service, and food in the back of the plane.
But with a few miles and a lot of luck, an otherwise expensive flight in the first-class cabin of Lufthansa could be within reach. Here you will find everything you need to know to get a first-class seat with Lufthansa.
What to expect from flying in first class with Lufthansa
The Lufthansa first-class experience varies a little from aircraft to aircraft and from airport to airport.
Your first-class seat on a Lufthansa 747 from the west coast to Frankfurt, for example, has a personal, lockable wardrobe in the front area of ​​the aircraft for your additional hand luggage. When you sit in the Lufthansa Airbus 380, you have access to a luxurious first-class toilet with a changing and washing area separate from the toilet area.
Regardless of the type of aircraft you are on, you will enjoy the luxury and comfort that will make your flight a pleasure.
Seats. Read every Lufthansa First Class report and you will see that the seats make up a large part of the Lufthansa First Class experience. The ergonomically designed seating in your open suite extends over 80 inches long by 30 inches wide. The headrest, backrest and ottoman are fully adjustable and the carefully designed lighting includes a reading lamp, atmospheric night light and electronically adjustable blinds.

Luggage. First class passengers will receive three checked bags and two carry-on bags included in their ticket.

Lounges. Lufthansa has its own first class lounges and facilities at a number of airports including Frankfurt, Munich, Zurich, Geneva, Vienna, New York-JFK and Tokyo-Narita. At Frankfurt and Munich airports, the lounge experience is simply exaggerated; In Munich, for example, you can enjoy perks such as relaxation rooms with daybeds, showers and a whirlpool. In addition, there is an entire terminal in Frankfurt only for first-class passengers.

Personal airport assistant. If you are flying from Frankfurt First Class Airport, you can drive to the airport entrance to find a personal assistant to guide you through check-in and security while a valet service takes care of your car. Other airports served by Lufthansa also have personal assistants who make it easier to get to the gate.

Eat. Like most major airlines, Lufthansa offers first-class passengers a top-class culinary experience with wines selected by the sommelier. Lufthansa also offers two extras that are hard to find elsewhere: the unique caviar service and the ability to choose for yourself when you want to serve your food.
How to book a first-class ticket with Lufthansa
Because Lufthansa is a member of Star Alliance, you can book first class through Lufthansa or one of its airline partners. Popular partners for booking Lufthansa are:
If you have earned miles in the Lufthansa frequent flyer program Miles & More, you can redeem 182,000 of them for a first-class return flight between the USA and Europe. But there is a catch: unlike many frequent flyer programs, where you can exchange American Express points, Chase Ultimate Rewards® points or another award currency for your miles, Lufthansa miles cannot be earned by exchanging points from other major travel rewards programs become .
Travel with a partner and define Lufthansa miles as the currency that you want to collect.
However, Lufthansa miles are not the only currency that can be redeemed for a first-class seat with Lufthansa. If you have United Mileage Plus Miles, Air Canada plane Miles or another partner airline currency, you can book first-class Lufthansa award flights directly through the partner airline.
For example, United MileagePlus members can book seats in Lufthansa First Class directly via united.com. The cost starts at 110,000 MileagePlus miles each way and increases depending on the season and demand.
But there is a catch here too. Lufthansa only releases first class seats for partner award bookings 15 days before departure. So if you want to redeem miles from United, Air Canada or another Star Alliance partner to book a Lufthansa First Class ticket, you have to wait up to 15 days before departure, hope that they will free up seats on a desired flight, then hope you will grab them before someone else picks them up – possibly in a matter of minutes.
For travelers who use miles from partner airlines, the seats in Lufthansa's Business Class will open much earlier. You can usually find these Business Class Affiliate Awards months in advance. So if you can't keep up with the uncertainty of booking a first class award with Lufthansa with partner airline miles, Business Class may be your best choice.
Opportunities for a cheap booking of Lufthansa First Class
Lufthansa doesn't make it easy to get added value from its top-notch awards, but there are a few strategies you can use.
Earn Lufthansa's own mileage currency
If you Pay with Miles & More miles, you can find premium award seats almost a year before departure. If you're paying with miles from a partner airline like United, you'll have to wait up to 15 days before departure to even see if there's a first-class award flight. If not, or if someone else snaps it, you'll be completely dry just days before your trip begins.
Find out more about Lufthansa's partners So you know all the ways in which you can earn miles. This includes not only flying partner airlines, but also renting cars from partner rental companies, staying overnight in partner hotels and shopping at partner dealers.
Be flexible
If you only want to leave during the main travel season in summer and only on weekends, it will be more difficult for you to find Lufthansa seats in first class that you can book with your miles. Find flights to, before, and after your ideal travel times to see options that can save you miles or money.
Arrive early to enjoy the lounge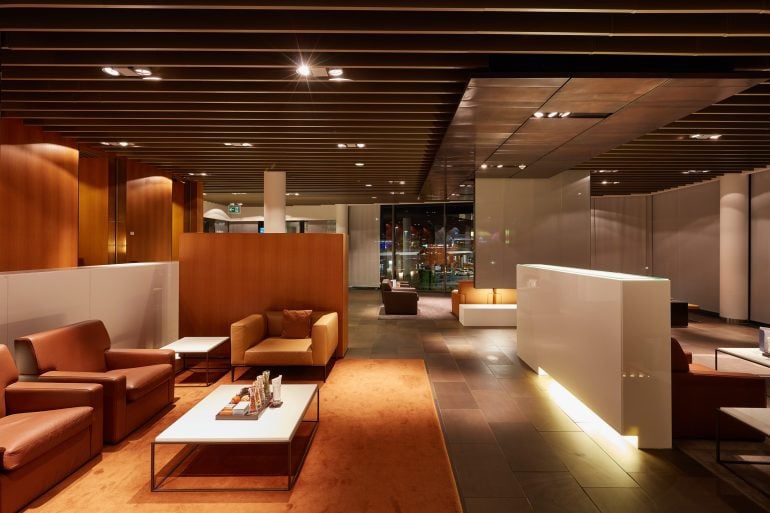 Depending on which airport your flight is departing from, you have access to a Lufthansa lounge or one of 900 partner lounges. While some are better than others, it is worth spending a little more time enjoying a drink or meal, indulging in luxuries like a shower or spa service, or just stretching out and relaxing before your flight.
When you fly with Lufthansa First Class
Lufthansa's first-class cabins offer some of the most unforgettable travel experiences in the sky. In order not to break the bank, you can book either with miles from the frequent flyer program Miles & More from Lufthansa or one of its partners such as United Airlines or Avianca. But these partner bookings are much more difficult to come by as first class seats usually don't open until about 15 days in advance.
Instead, collect miles directly in Lufthansa's frequent flyer program by flying with Lufthansa or partner airlines, registering for a credit card and choosing to collect Lufthansa miles for hotel stays and rental cars.
How to Maximize Your Rewards
You want a travel credit card that prioritizes what is important to you. Here are our tips for that The best travel credit cards 2021including the best for: