"Houston, we have a problem," said the Apollo 13 crew.
Half a century later, Houston is A problem because some of the largest hospitals are 100% intensive care units. The same goes for many other cities in the US.
This is a problem and it is getting worse.
Meanwhile, the same pandemic that is filling hospitals is killing jobs too. The latest employment report showed the US lost 140,000 jobs in December. We've still shed nearly 10 million jobs since last winter.
The economy will not improve until we have the virus under control, which depends heavily on how quickly we vaccinate people. The pace is increasing, but it is still not sufficient – especially since scientists are finding that variant "B.1.1.7" is much more contagious and spreads quickly.
If we are to emerge from the recession this year, speeding up vaccinations will be necessary, but probably not enough.
The Apollo 13 astronauts made it home because people saw the problem and came up with creative solutions. We have to do it all over again.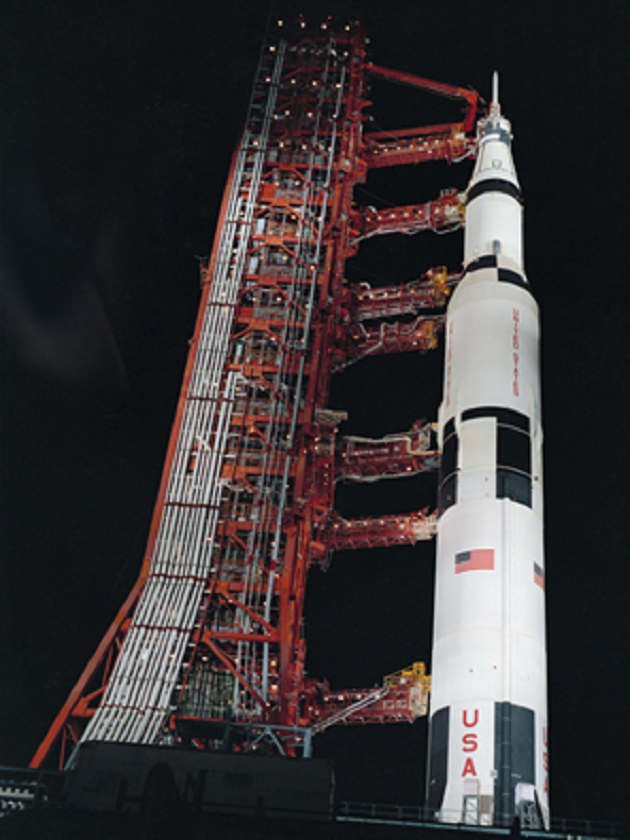 Photo: NASA
Tough choices
On March 23, 2020, President Trump said the following at a coronavirus task force press conference:
"America will be open to business again and again soon – very soon – much sooner than the three or four months anyone has suggested. Much earlier. We cannot allow the cure to be worse than the problem itself. We will not allow the cure to be worse than the problem. "
The "cure" the president was referring to was the business and school closings he had requested of the states a few days earlier. At that point, the U.S. had a total of 43,850 confirmed cases and 762 deaths. Now let's mark every couple of similar numbers hours.
Even so, in April, with Trump's encouragement, the governors began lifting their orders. And the economy has improved over the next few months. But the health problem has also worsened, and now the economy has stalled again.
These are, of course, difficult choices for any national leader. They have had varying degrees of success as you can see in this graph. It shows the COVID-19 deaths per capita versus GDP growth in 2020.
Ideally, you want to be in the top left, which means relatively fewer deaths and relatively better economic growth.

Source: Max Roser
I don't necessarily trust the data from some countries like China, which seem to have done well. But South Korea and Australia have struck the right balance too, so it's not impossible.
The US is now over in the top right, with more deaths and better growth than others. This combination corresponds to the "burial boom" I have described. Not pleasant, but it's the path we chose.
Now the problem is getting worse. What next?
Dr. Gavin Yamey is a doctor and professor of global health and public order at Duke University. When he wrote on Twitter last week, he denied the notion that we can just wait for the vaccines.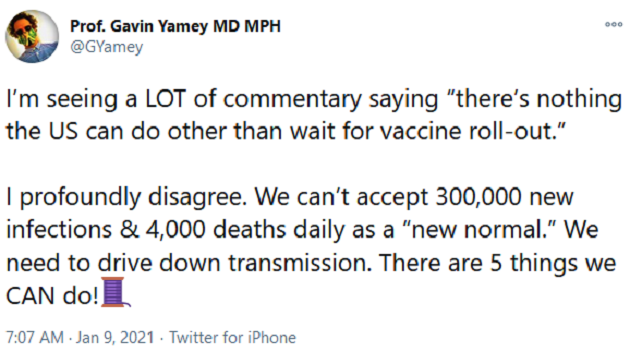 Source: Gavin Yamey
He sketched five steps.
Invoke Defense Production Act to equip everyone with N95 (High Filtration) masks.
Better ventilation, spacing and density for schools and workplaces.
High-quality protective equipment for all important employees.
"Circuit breaker" closes at least in high transmission states.
Financial support for people who are unemployed or unable to work from home.
It is no coincidence that the countries that have minimized economic damage while keeping the death toll low have done at least some of these things. You are not difficult. We just didn't do them, at least not very well.
But of course we have to do more. Last week I showed the CDC's vaccination progress card. It has improved since then. Some states, like South Dakota and West Virginia, are making good progress, but the national picture is still terrible.
As of January 11, only 9 million Americans had received their first dose (of two needed). The herd immunity threshold is estimated at around 230 million. So we need to give a total of 460 million doses – and hit about 2% of the target in the first month.
This pace will accelerate as states refine the process. But it won't seem to reach warp speed … which means we won't control the pandemic enough to get the economy going again this year unless we take additional steps.
It also means that those predictions that the economy will recover in the second half of 2021, while not impossible, are likely overly optimistic.
There is reasonable debate about what to do now. For example, I think store closings should be targeted more carefully than last year.
But this idea that we can get back to normal life because vaccines are coming soon isn't working. We have to do more.
My partner, John Mauldin, predicts an unprecedented crisis that will result in the greatest loss of wealth in history. Most investors are currently unaware of the pressure build-up. Find out more here.