Find the best deals and latest deals on cheap Tassimo pods. Never pay full price – here are the ways to get your Tassimo Compatible pods!
This page contains affiliate links. We may receive a commission on purchases made through these links. [Learn more]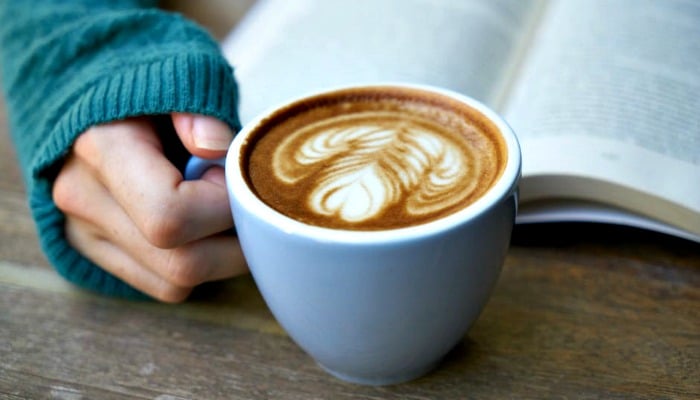 While you've invested in a Tassimo machine, the costs don't stop there!
You can buy a Tassimo coffee maker for a bargain price, but you may not have considered the ongoing cost of the Tassimo pods. You cannot use old ground coffee in the machine, but you must use specially designed coffee pods.
However, it's worth getting a creamy Costa Vanilla Latte, warming hot chocolate or a kick from an espresso at the touch of a button.
Now comes the battle; Enjoy decent coffee and still save money.
Where can you get cheap Tassimo pods?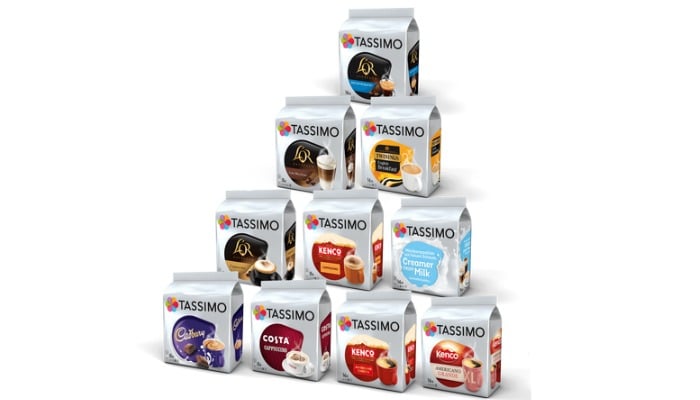 There is no point in going to the first supermarket you come across as you will most likely have to pay full price.
Some of the supermarkets have price offers from time to time. Even with some of the "deals" it usually works out more expensive and better deals can be found online.
Tassimo Pods offers
The offers for Tassimo pods range from around 18p per capsule up to 63p!
How much you pay can make quite a difference. So it's always worth looking around to get great deals on Tassimo pods.
If you want a milky coffee like cappuccino or latte, you need to use two slices (one for the coffee and one for the milk) so that you are effectively getting half in each pack. The cheapest way to drink Tassimo is to buy Americano, or long black coffee, and top it up with warm milk.
Full price packs cost around £ 5 for 8 (i.e. 63 pence per T-disk). That is why it is important to look for the offers.
Amazon Tassimo pods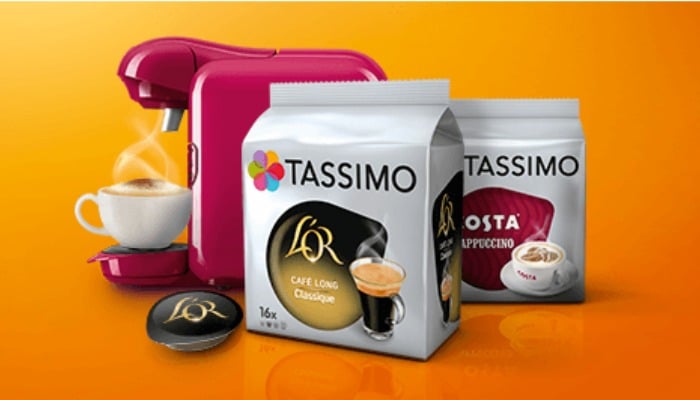 Amazon is by far the cheapest place to buy cheap Tassimo pods.
As a one-time purchase, you can pick up 80 T-Discs for £ 16.65 (21 pence per cup).
However, if you choose to subscribe and save, you will receive an ongoing 5% discount on the price (20p per cup). But … subscribe to 5 products and get 15% off the price (and other things you subscribe to too).
Haven't heard of subscribing and saving yet? Find out more here
With the hefty reduction, it means you can get your Tassimo pads for just 18p per cup.
Lowest cost: Subscribe and save on Amazon and get your pods for only 18p per cup
Supermarkets
Look out when the supermarkets sell the 3 for £ 10 Tassimo pods.
If you buy coffee with milk, the price is 42p per cup, but americano pods go up to just 21p per cup!
You can cut costs even further by using the supermarket promotion codes to further lower the price of your store.
Lowest cost: Wait for an offer (Tesco and Ocado are good to consider) and buy them for 21p per cup
Discount stores
B&M, Homebargains, and Poundstretcher sell Tassimo pods, but you need to be careful about prices.
Even though they are discount stores, double-check the prices before you automatically think you are getting a bargain.
Poundstretcher probably has the best deals (if your store has them in stock!).
Lowest cost: I've seen packs on sale for £ 3.99 for 16 – which means 25p per cup.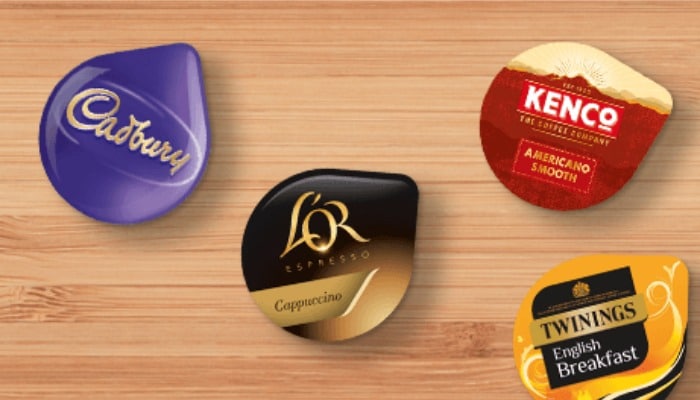 Groupon
Groupon is known for great deals, but remember to check prices before buying!
The Tassimo pods offer regular Groupon updates and contain different types of coffee packs.
You can also buy cheaper Tassimo accessories.
Lowest cost: At the moment the cheapest pods are at work 27p per cup
Ebay
There are all kinds of cheap Tassimo pods sold on eBay. It's best to stick with a seller with great feedback.
Most charge for delivery, but you can find a listing that gives you free postage. This usually happens when you buy 3 or more packs at a time.
Remember that you can also collect nectar points on eBay.
Lowest cost: Avoid delivery by buying a few packs at a time and cutting prices down 27p per cup
Tassimo
Tassimo sells the pods on their own website.
There are no minimum spend and get free shipping when you spend more than € 30. If you want to spend less, the shipping cost is £ 2.99.
Usually you can get a discount or take advantage of an offer from the website, but you will have to spend more for the discount to apply.
There are discounts to be won by finding and using coupon codes (but not in addition to current offers!).
To get a few extra bonuses, sign up for the newsletter to receive offers (e.g. 30% off your first order), and you can get € 20 off pods once you have your machine with them have registered.
Even with discounts, you will likely get the packs a little cheaper elsewhere.
Lowest cost: There are also prices with discounts 45p per cup
Tassimo subscription (using a £ 1 Tassimo machine)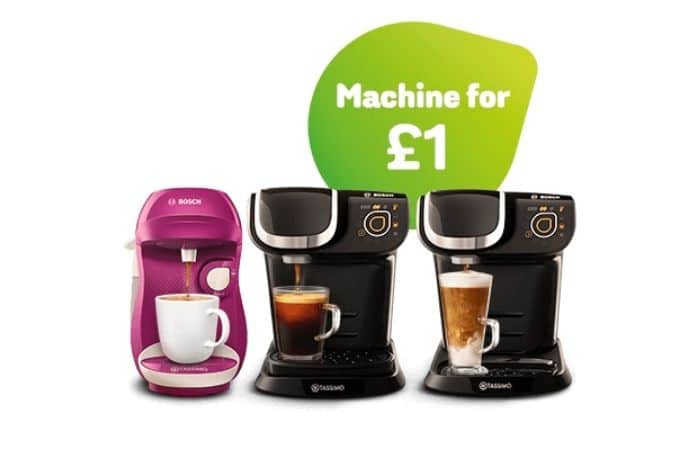 One option could be to choose a subscription to Tassimo coffee.
As part of the deal, you get a Tassimo coffee maker for £ 1 and receive free coffee capsule delivery to your doorstep every month.
If you're a heavy coffee drinker and you can get through 3 cups a day (or 90 a month) it'll cost you £ 29.99 a month, which is 33p per cup. You can choose from a wide variety of coffee, hot chocolate or tea.
It's worth taking a look at the different subscription levels to see if it's worth it for you.
Tassimo compatible pods
You can't buy a compatible pod from another company. There is no range of Tassimo compatible pods.
You are only limited to the Tassimo T-Discs. These discs have a special barcode to ensure you get the perfect hot drink.
So make sure you get a good deal when buying, as you won't find cheap Tassimo pods in Lidl or Aldi.
If you see "fake Tassimo pods" for sale, you need to avoid these as they will not work in the machine (and who knows what is in them ?!)
Is there a cheaper version of Tassimo pods?
You can get cheap Tassimo coffee pods from a number of retailers. They are directly compatible and you cannot get offers for a cheaper imitation.
Tassimo Pod Range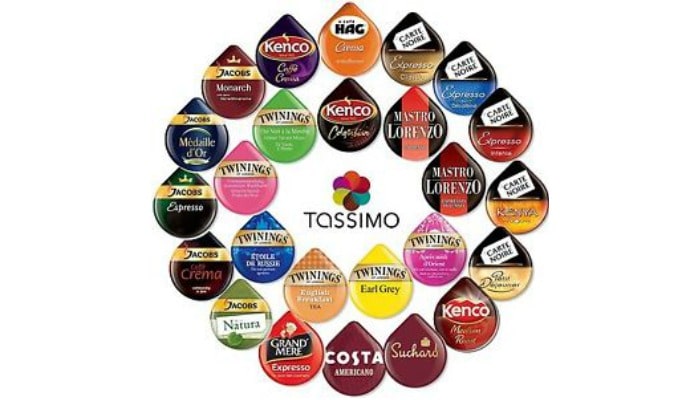 There are so many different types of coffee (and teas and hot chocolates) to try.
You can choose between classic coffee, espresso, cappuccino and latte through to coffee specialties such as cortado or latte pods. There are also different blends of tea or spicy chai latte.
Don't just think of standard drinks! You can use your Tassimo coffee pods to make other recipes like an espresso cup cake or an espresso martini!
Just think – you can choose between latte macchiato, Costa Americano, hot chocolate, caramel latte or cappuccino and much more! You can mix up your preferred strength and size of Sup, as well as add-in flavors from some of your favorite brands including:
Baileys
Cadbury
Carambar
Costa
Always good
Friele
Gevalia
Grand'Mère
witch
Jacobs
Kenco
L'OR
Marcilla
Milka
Oreo
Suchard
TASSIMO
Twins
Velor Noir
Are Tassimo coffee pods worth buying in bulk?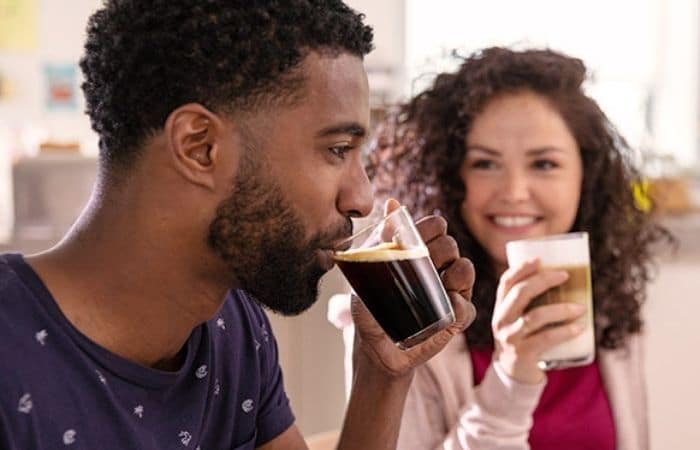 Absolutely! Buying them in bulk gives you access to the best deals on Tassimo pods.
Tassimo pods have a best-before date. This means that even after the date has passed, they are still perfectly safe to use and drink.
Read more about the best before date and use it by date
Can you use Dolce Gusto pods in a Tassimo machine?
Dolce Gusto coffee machines are different from Tassimo. The coffee pods are not compatible in both cases.
Can I recycle Tassimo coffee pods?
Once you've used a coffee pod, you can't refill it, but it can be recycled.
Tassimo has brought out a collection of its coffee pods on the roadside, or you can drop off used pods at a Collect + store.
You don't have to worry about removing the ground coffee from the capsules. They take care of everything for us.
Once collected, soil conditioners and renewable energies are created on the coffee grounds, and the plastic and aluminum coffee pods come to life as new products.
Should I just stick to a kettle?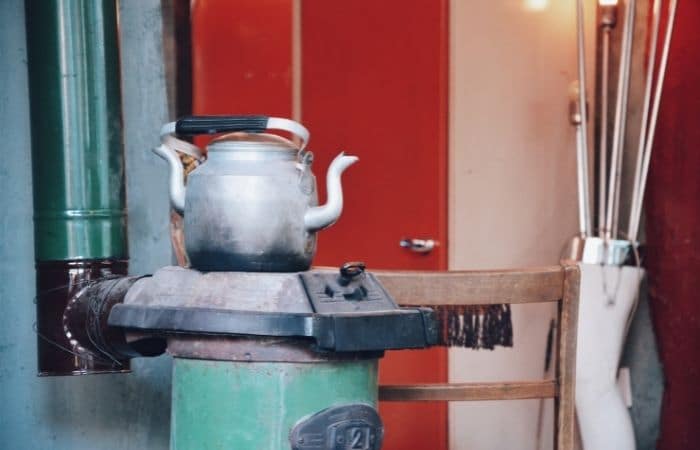 In the long run, if you want to save money then yes.
If you're a coffee lover and you already spend money at a coffee shop, you will save money over time (assuming you no longer get your coffee from a coffee shop).
Alternatively, you can purchase espresso machines that use ground coffee beans, which are easier and cheaper to source. However, it takes a little longer to get the coffee just right and you need to do more cleaning up.
If you love coffee and are short on time, a Tassimo machine might be a worthwhile investment.
Latest posts by Naomi Willis
(See everything)